Seth is home for the summer!  There is nothing like having your children back "in the nest" for a few weeks.  Just having him "accessible" is a relief for this mama. You know the old saying, "I just need to put my eyes on him"?  That's what I mean by accessible. My friends that have girls talk about facetime and how great that has been with their daughters.  I'm here to tell you, boys don't get into facetime…or mine don't anyway. A phone call is enough for them. And by "putting my eyes on him" I also mean putting my arms around him! 
This year has truly flown by.  It was just last August when Kip and I were wondering how this new phase of life was going to be.  We weren't necessarily afraid of being "alone" together. It was more that we were anticipating missing our boys terribly.  But we were pleased to find that we have really enjoyed our time together.   
Another plus of having your adult children home for the summer is that you get to see their friends.  I didn't realize how much I miss them as well. We took a group over to Top Golf yesterday afternoon. It is extremely fulfilling to hear of their first year of college, the best and the worst, and remember all the laughs.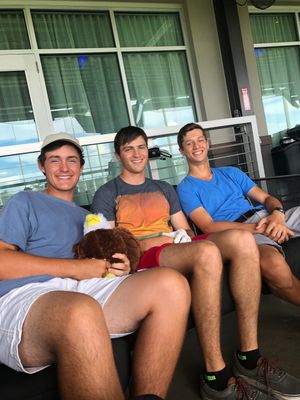 We even made some laughs of our own!  What trip isn't complete without car trouble and a car full of young men that know how to make even the most frustrating experiences fun.  A great time was had by all. It is as though no time has passed since they last saw one another. I love these kids…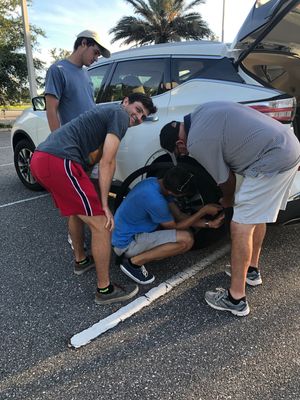 My cup runneth over!  Psalms 23:5