A Year of Firsts by Melissa
As I travel back to my hometown to spend Thanksgiving with my family, I take in the sights of home from the window of my car.  The cotton fields are a comfort to see, the tops of the plants dusted with white.  The trees are gold, orange, brown, and green.  God's landscaping is always so beautiful.  The fields are full of hay-bails ready to be stored for the year.  These are the scenes of my childhood.  I begin to hum the old hymn "Count your Blessings", and I begin to "name them one by one".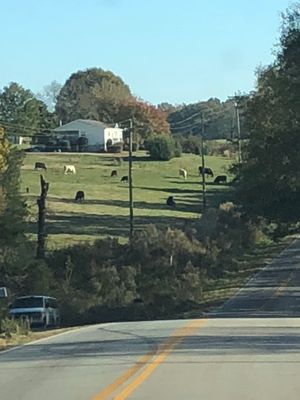 God blessed me with the honor of being chosen to join Kathleen and April with Nevaeh.  That was a blessing that I wasn't looking for, but definitely God ordained.  I was busy praying that God help me and Kip as we enter the "empty nest" season of our lives and God was orchestrating something that wasn't in my wildest dreams.  What a blessing to share the love of Jesus to the world with these precious new friends. 
It wasn't long after I joined Nevaeh that Kathleen presented the idea of recording a new CD.  I had never done any recording before.  Standing in the recording studio, headset on and microphone in my face, was intimidating and humbling.  I remember thinking, "This is do or die now girl.  Don't choke."  Then my very next thought was, "Lord, you have blessed me with this opportunity for your glory.  Sing through me." 
During our time of recording, we got the news that we had been nominated for 2018 Group of the Year with the Artist Music Guild.  What an honor to be nominated for such a prestigious award.  Kathleen put together a short video of our worship and outreach opportunities that we had participated in since I had joined the group and sent it off to the Music Guild.  We continued to work on our CD project.  In God's perfect timing, He presented the songs to us that we recorded.  It was nothing short of miraculous to see His hand open and close doors in this project.  We are even shooting a worship video to "Come Alive".  My goodness, what is God up to?                                                   
And then we were off to North Carolina for the AMG Awards!  I mean we walked the red carpet, we were interviewed, and we were in the room with amazing talent from all genres of music.  It was a blessing just to be in attendance.  We were asked to present 3 of the awards that night.  The awards are recorded for a live showing, and we had to read a script from a "slow" teleprompter that we had not previewed!  That was a little unnerving!  Another first, but I did it! 
When it came time for the award for the 2018 Group of the Year to be presented, I held my breath.  I was preparing myself for someone else's name to be called.  After all, we had only sang together in public since January.  And then they called our name, Nevaeh!  I was overwhelmed with the blessings that God was bestowing upon us.  I pray that He uses us mightily for His kingdom!  I feel so unworthy, but God is able! 
Ephesians 3:20-21 says, "Now to Him who is able to do exceedingly abundantly above all that we ask or think, according to the power that works in us, to Him be glory in the church by Christ Jesus to all generations, forever and ever.  Amen."