Our journey to Berry began with much excitement and trepidation. We had our schedule and I absolutely loved that. Kip and I both like to know what we need to be doing, when we are expected to be doing it. I am a little more "flexible" with my schedule, but for Kip, the schedule is the gospel. 
We headed out to Rome, GA with a Denali and Seth's Altima completely packed. There was not room for one more item. I do not remember having all this stuff when I went to UGA. I remember the trunk of my Pontiac Grand Am being pretty full, but that was it. 
I had been wondering how this day was going to go. I remember taking my sister, Beth, to college and myself, mama, and daddy cried most of the way home. I expected the same with leaving Seth 9 hours away. I was preparing myself for this inevitability. 
Our schedule, sent by Berry College, was to move in from 8:00am till noon, parent meeting with Winshape at 2:00, parent-student celebration on the lawn with an address by the President at 3:30, then we could take Seth off campus for dinner and our last goodbyes before his mandatory dorm meeting at 8:30pm. I had memorized this schedule. This was my last day with Seth for 3 months, so I was counting on spending every minute with my baby boy.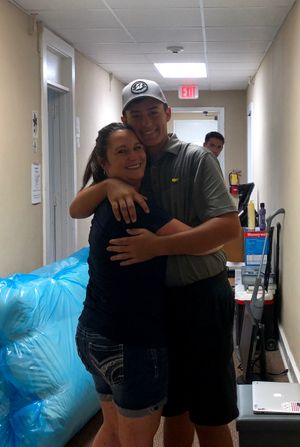 God had another plan. Isn't that just like God! He has the best plan for our lives. We just have to be obedient. 
Well, after the 3:30 celebration with the President, we loaded back up in the car to head back to the mountain campus, where Seth's dorm is located. It was 4:30. We needed to complete his "move in" and head out to dinner, where I was going to try and pour into him whatever I thought needed to be emphasized from my previous 19 years of pouring into him. 
On the 5 min ride to Friendship Hall, Seth received a text from a fellow freshman on the Berry Golf Team that read like this, "Hey Seth, Coach said we could go to Coosa Country Club and get in a round of golf from 5:00 - 8:00 before we had to be back to our meeting at 8:30. You in?" 
Well, of course I said, "Well, I guess you'll just have to tell him it doesn't suit tonight. This is our last family meal with you. Tell him tomorrow is better." 
I got the death stare from Seth. I looked at Kip, he was looking at me with a pleading, but sympathetic look. I looked back at Seth and asked what he really wanted to do. Of course he said, "I really want to go mom." So I said, "Absolutely son, you should go." 
We reached his dorm, he changed his clothes, grabbed his golf bag, hugged us bye, and was off to his next 4 years of college adventure! 
God orchestrated that like only He could! I didn't have time to get upset. We left Seth doing exactly what he loves to do...his passion. No leaving my son in a dorm room, sitting on the edge of his bed, wondering what now. Seth was ready! And God made sure that we all knew that Seth was ready and in capable hands. The hands of the Father!